Therapy Services
Transforming the way therapy is delivered in senior living communities at no cost to you.
Coming from senior living operations, EmpowerMe understands what is important for the success of your community and residents. Our team works with your community to implement one-on-one and group programming that helps your residents stay active and engaged. Our on-site physical, speech, and occupational therapists are a friendly face for seniors and experienced allies in moving seniors toward greater health and happiness.
Working Together, Guiding Independence.
We know how to promote engagement that creates real results for seniors.
The communities we partner with see on average a 66% increase in the participation rate of therapy and wellness services by the end of our third month working together.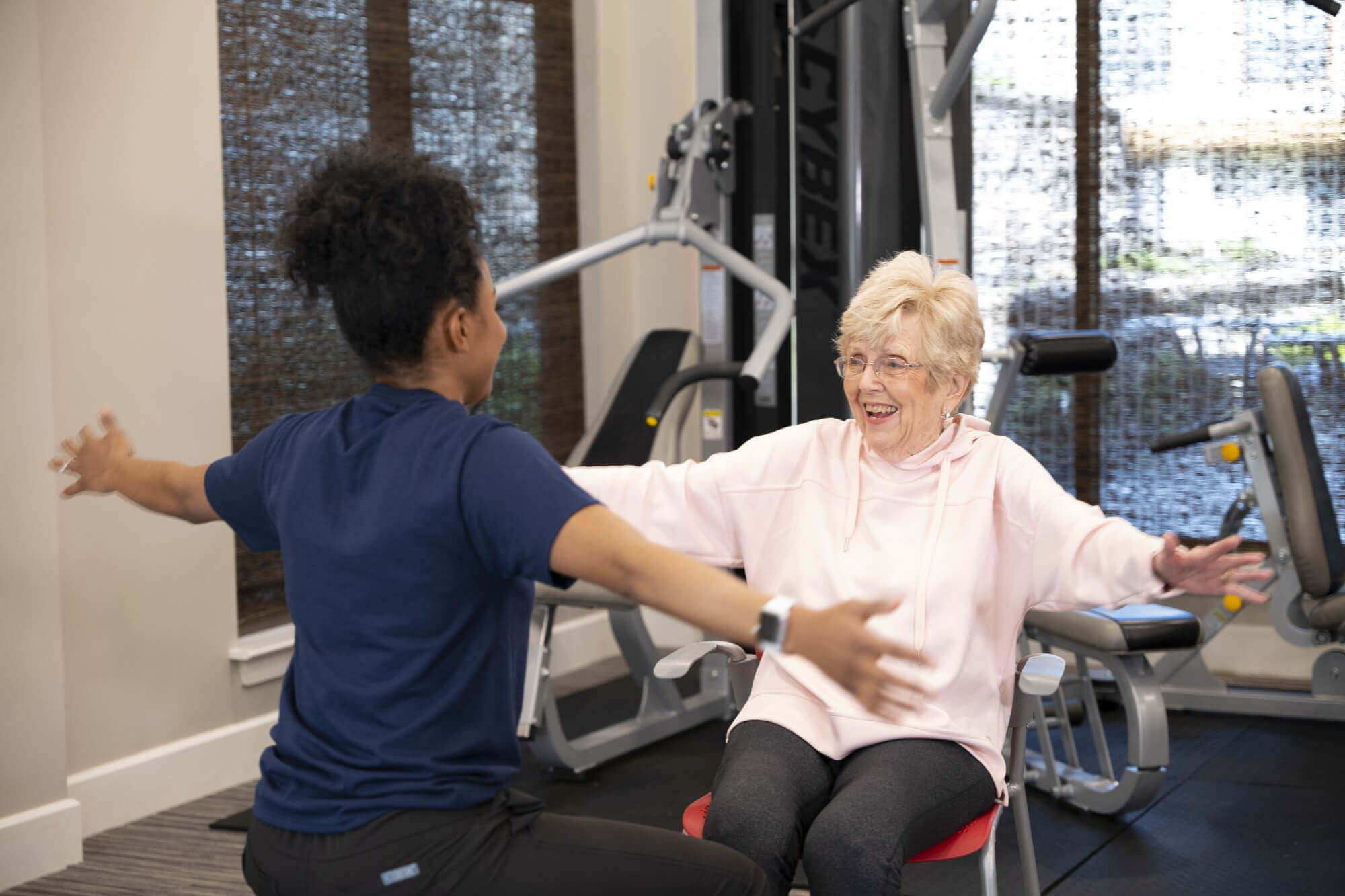 Seizing Every Opportunity for Greater Independence
Physical Therapy
Our personalized goal-based physical therapy programs include endurance and strengthening exercises, balance training, fall reduction, and treatments for swelling, joint pain, and limited range of motion.
Occupational Therapy
Our occupational therapists help seniors regain the functional skills needed to independently complete daily tasks by safely restoring their independence and confidence in the wake of illness or injury.
Speech Therapy
Our speech-language pathologists treat language, cognitive, speech, memory, and feeding difficulties resulting from accidents, strokes or neurological conditions. Affecting more than just verbal communication, our speech therapy programs address cognition and expression that are critical to seniors' health, happiness, and independence.
Offering Exceptional Cognitive Care
Through The Focused Mind℠ Program, our team provides customized approaches to cognitive care that are unique to each resident. We identify which capabilities seniors currently retain, then work with them one-on-one to build interdisciplinary care plans that support those capabilities and safely promote their independence.
Fall Reduction Programs that Promote Independence
EmpowerMe Wellness residents see an average of an over 80% improvement in gait, balance, and mobility assessments, drastically reducing their risk for falls and hospitalization. Our fall reduction programs include:
Preventive Care
We have robust programming that identifies residents at risk for falls. All residents are screened quarterly for necessary therapy intervention.
Innovative Technology
We use performance training designed specifically for senior living communities to address brain health and physical fitness, using games to measure both cognitive and physical function with measurable impacts on falls.
Team Partnership + Education
Our therapists partner with community staff members to train them on fall reduction strategies & early signs of fall risk. They join the at-risk meetings to ensure we are treating every possible resident who needs services.
Measurable Impact
We track our resident outcomes through utilization of best-practice industry assessments. Our results show substantial improvement in balance, gait, and mobility – all crucial factors in reducing falls and maintaining mobility.